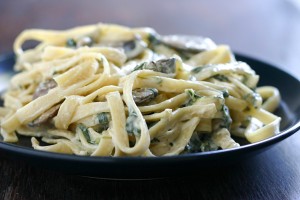 Since my family has given up all things chicken, cow, pig and other meats, we've had to go in search of new and better replacements for some of our old and classic recipes. If you've ever pursued a vegetarian lifestyle, you feel me, right? I mean, what ARE you supposed to serve with mashed potatoes if you no longer eat ham or barbaque chicken?
But, it's all good, because we have a wonderful Spinach Alfredo dish that is not only on the lighter side, but is also quite tasty, and a perfect go-to recipe when you need some comfort food.
We aren't vegans (…although I do threaten my family with this on a regular basis), you can easily adapt this recipe to follow vegan guidelines. Until that time, we use butter and real cheese in our recipe.
Ingredients (serves about 4)
If you don't like spinach… first – what is wrong with you?
Kidding. I know not everyone eats their spinach like Popeye so you could replace it in this recipe with peas, broccoli or asparagus. You can also omit the onions and pepper if you have picky eaters.
1 box of linguine noodles. Or egg noodles or, really – any pasta would work
2 cups coconut milk. Make sure you use the unflavored kind!
1/2 cup of vegetable broth
2 cloves of garlic, finely chopped
1 half of an onion, diced
1/2 cup grated parmesan cheese, plus a little more for topping
1/2 cup of romano cheese, grated
zest of one lemon
juice of one lemon
1/2 teaspoon salt
1/4 teaspoon pepper
1 tablespoon of butter
splash of olive oil
1 box of frozen spinach, thawed. Or about 4 cups of fresh spinach
A sprinkle of basil or parsley, whichever you prefer
Directions
Bring a large pot of water to boil and add pasta. Cook according to package directions. Drain. Set aside until ready to use.
In saucepan, put coconut milk over medium heat. Once the cream begins to simmer add butter and vegetable broth. Add romano cheese. Stir as sauce thickens. Add parmesan, zest, lemon juice and salt. Continue to cook over medium heat until desired creaminess is met. (You can add cornstarch if you want it thicker but we prefer to add cauliflower! Simply boil 4 or 5 cauliflower florets until cooked then blend with a little vegetable broth and add to your alfredo sauce. Trust me – it's delicious and is a great thickener.)
In a non stick skillet, sauté the olive oil, garlic and onion. (Don't let the garlic brown!) Add spinach and sauté over low heat for a few minutes. Remove from heat.
Sprinkle with a little pepper if you are allowed and serve over noodles. Pour sauce over spinach and noodles, and then top with a sprinkling of parmesan cheese.
My family loves this recipe and with healthier ingredients than traditional Alfredo, everyone is happy.